Salaam Gives Back: Morocco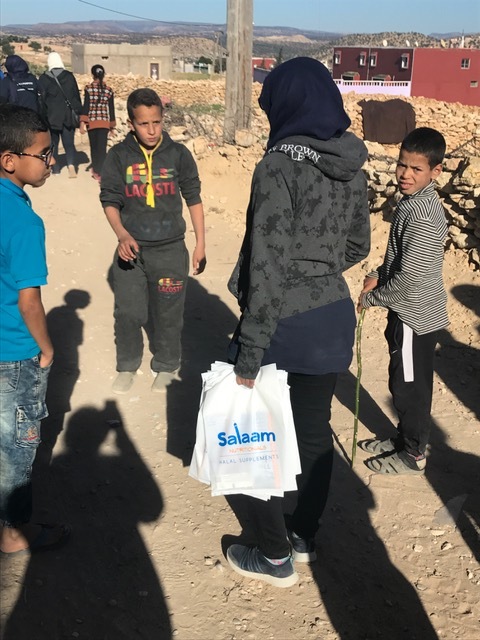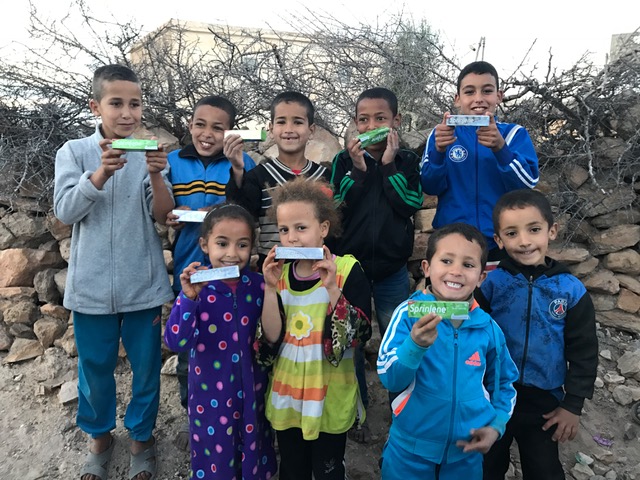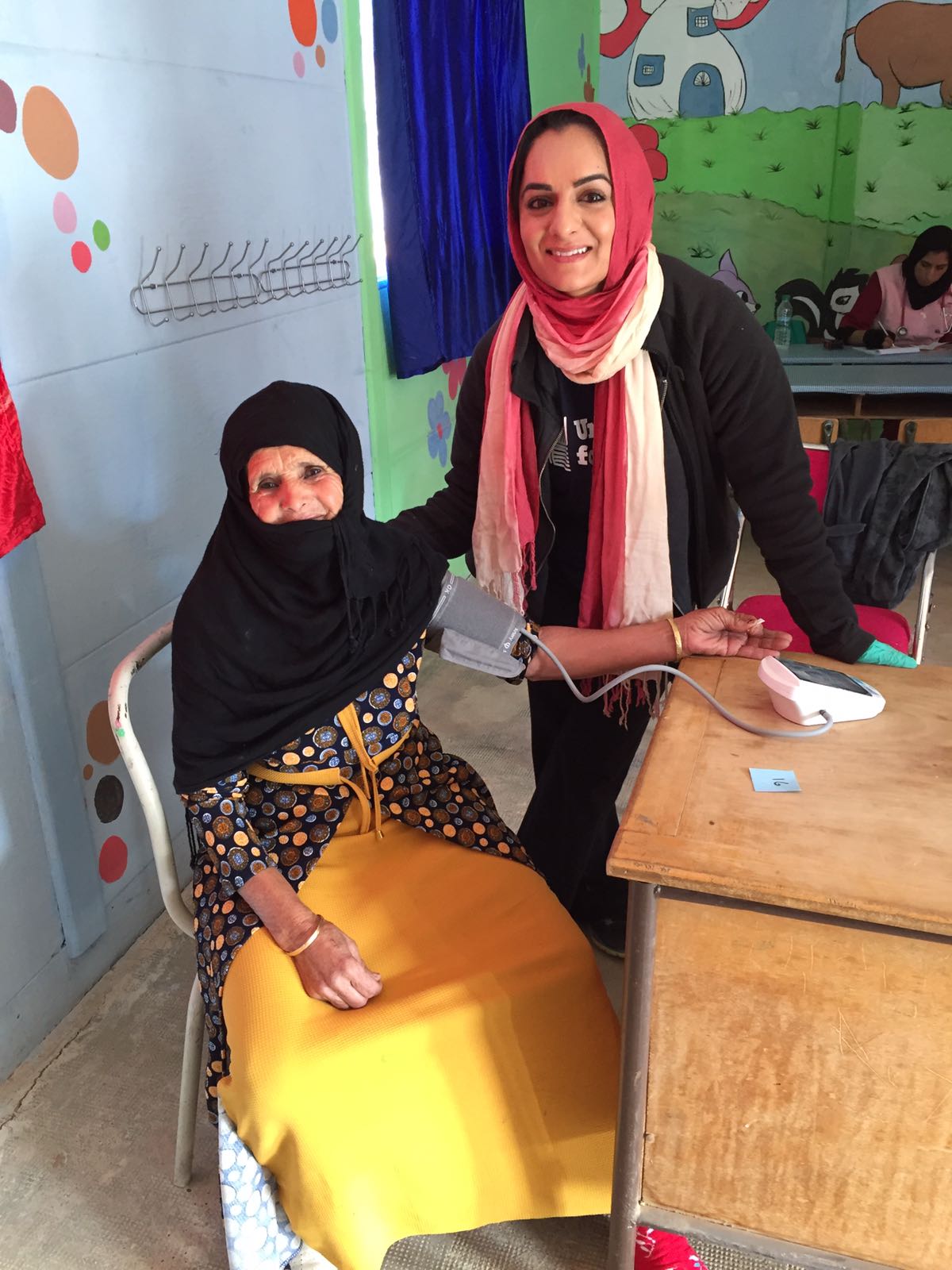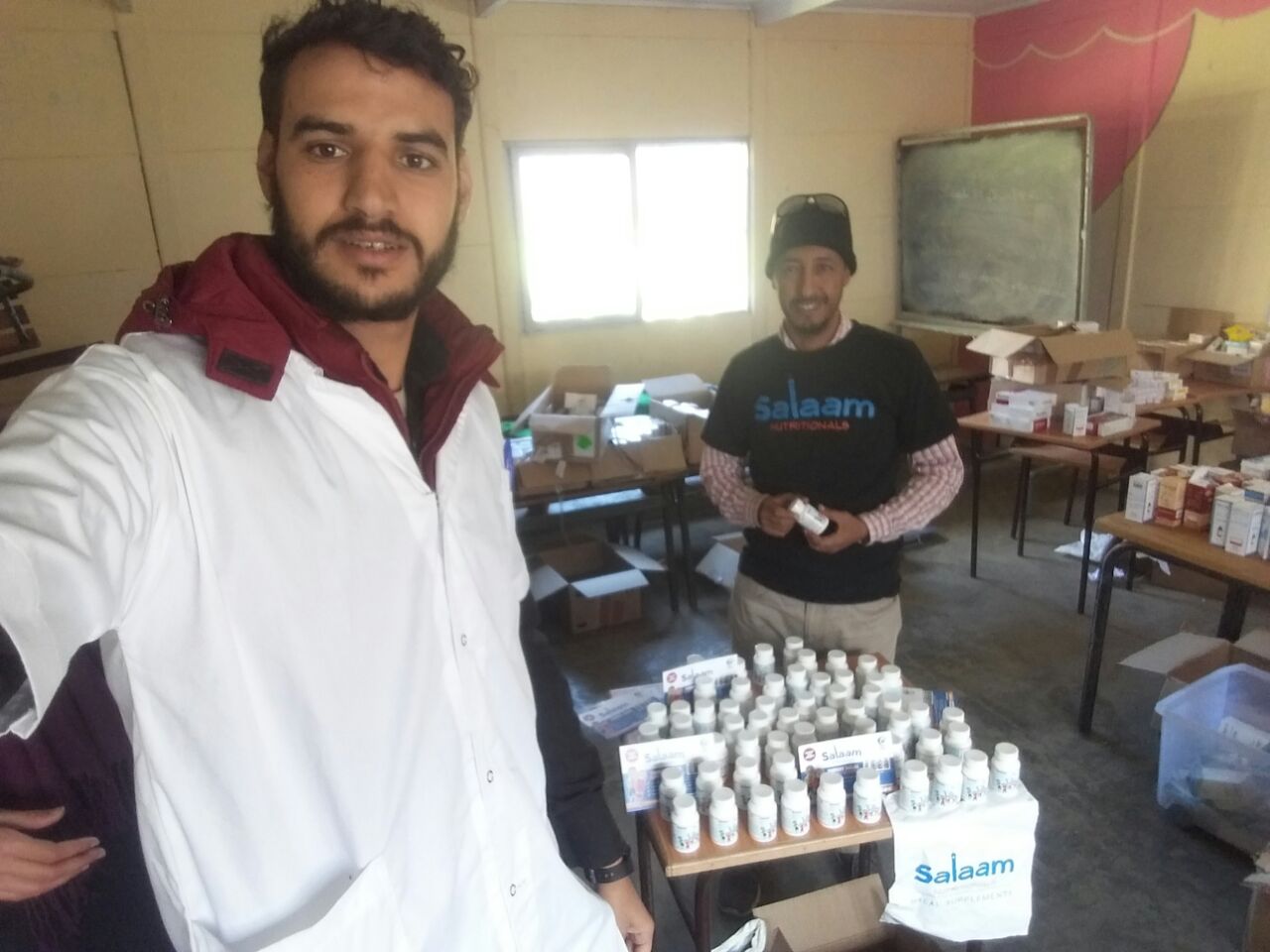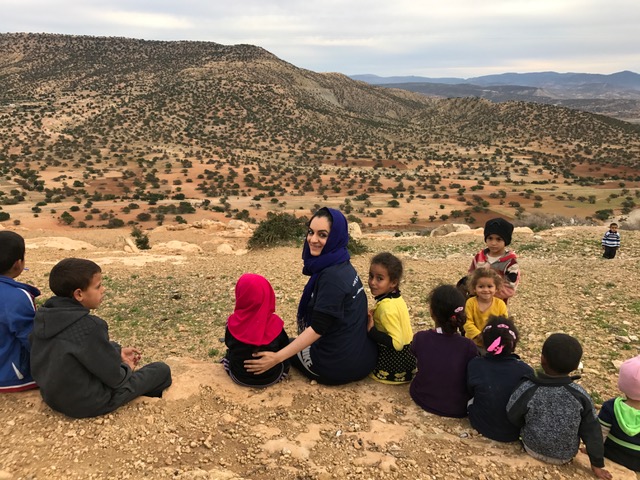 This year for our annual service trip I wanted Salaam to do something beyond just donating vitamins, I wanted to get involved on a deeper level and participate in a medical clinic. We teamed up with United for Service, a non profit based out of the bay area in Northern California, whose mission is to have local volunteers work for the diverse needs of under served communities overseas.
This seven day trip to rural areas of Morocco was going to consist of participating in medical clinics and hand out our halal vitamins, spending time in schools teaching children English in remote areas, volunteer in orphanages, and learn the skillful techniques of basic farming activities.
The trip got off to an unfortunate start as I missed my connecting flight from JFK to Spain so I spent the night at JFK until I was issued a seat on an alternate flight in the morning. This delay caused me to lose almost 2 days of an already short trip. Once I arrived at the Marrakesh airport the rest of the team was already packed and waiting on the bus for us to head to Ighil Village, a 3 hour ride south of Marrakesh. As luck would have it, my bags never made it to the airport with my original flight, and despite trying to locate my bags in their system for an hour with a manager I had to leave with just my backpack.
We arrived at our hosts home late at night and I immediately noticed the unfinished style home with an open ceiling with chilly air all around. We were welcomed with tea and lentil soup to warm us up before we were taken to our rooms. The rooms had cement floors with 3 single mats , 3 pillows, and 3 blankets for each girl. The bathroom had no running water, electricity, or shower. There was a bucket filled with water to shower and cleanse with, but if we wanted warm water we would have to warm it up on the stove first. This style of living really put into perspective how blessed and fortunate we are to live a life of luxury. To flick on a switch for electricity or turn the tap for instant warm water is something I hope to never take for granted.
To better understand the Berber people and their way of life it was only natural for us to immerse ourselves in their culture and their daily routine. The next morning we went to another hosts home and learned how to make traditional Moroccan bread, cook lunch in a tangine, and make authentic mint tea. After cooking our meal we went out to the shed and saw heaps of argan nuts women were cracking to prepare one of Morocco's most coveted commodities; argan oil. We sat down and were taught how to perfectly crack open the external shell of the argan nut so later the oil could be extracted from the inner seed. We used rocks to crack the nut open and even then it was extremely difficult to get the nut to crack, its no wonder pure argan oil comes with a hefty price tag!
Prior to our first health clinic set up in Ighil village I sat down with the rest of the other non-medically trained volunteers and went over basic health screening check points. We went over ideal blood pressure, blood sugar, and cholesterol goals. How to properly check blood pressure both manually and using a machine and how to accurately and painlessly obtain a blood sample for blood sugar and cholesterol checks
Our first health clinic just down the hill was a basic health check mainly for young children and the elderly. I was in charge of precepting my fellow volunteers as they were checking each patients vitals. We were also welcomed by other volunteer physicians who were seeing patients as they were being triage'd from our station. We saw roughly 50 patients our first day in the Ighil village which was a good practice run for our next clinic we had planned an hour away in Asaka village where we expected several hundred patients.
The next day was one of our biggest clinics in Asaka Village. We set up different stations for our patients so they could do all of their annual health check ups in the same day. We had an optometrist overseeing eye exams, dentist performing minor procedures in their mobile dental clinic, myself and another pharmacist overseeing the medication station, our fellow united for service volunteers triaging and taking vitals, and of course our physicians. It was an exhausting day as we saw over 300 patients but it was such a rewarding experience as we had the opportunity to meet and touch so many lives.
When a child was seen by the physicians and there seemed to be signs of malnourishment they told their parents to come see me for vitamins. I spoke to the child and their mother through the help of a translator but to see the excitement on their face when they realized the vitamins were inside a sweet gummy was an expression I didn't need a translator for. The next day we ran another clinic in a nearby village and served another hundred patients.
One of the more memorable days of my trip was when we went to go visit a nearby primary school in the village we were staying at in Ighill. It was the only primary school in the entire village so we went there to visit the students to give them an English lesson and donate more of our halal vitamins. In addition to the vitamins we provided them with a Salaam Nutritionals bag which contained a toothbrush, toothpaste, a NoorKids books, and a CURE snack bar. We also raised $5,000 for this school for them to have a computer work station, improved classrooms, and compensation for a teacher to be there full time.
The next day our hosts family showed us how their water filtration system worked and how they stored their water during the rainy season. They essentially had a water reservoir under neath their home which collected rain water and they would take a bucket to pull water up when they needed it.
Physically pulling water up from the well with a bucket so we could use this water to plant our trees made me appreciate not only how lucky I am but how tirelessly the Berber people have to work to meet their most basic needs. We grabbed our buckets of water and went from home to home planting fruit trees in their yards so they could enjoy the fruits of our labor for years to come. After planting our trees we said goodbye to our host family in Ighill and made our way to Agadir, another city a few hours away.
With just another day left of my trip we held one final medical clinic in Tildi village and volunteered at a local orphanage while others went to shadow physicians so they could see them perform surgeries. On our final night of the trip we held a farewell dinner with all the organizers and physicians to reflect on our experiences and what we learned by immersing ourselves in a foreign culture, and one thing we all agreed upon was, we would all be back to serve the very people we all took an oath for in our respective fields.

.